Hi peeps!!
Today I am gonna do another review on a product which I bought on a sale online last week!!
Lucky me!! the retail price range from $29.90 - $50 but I managed to get it for $10.40 with postage lol!!!
it is such a steal and a bargain hahhaha!!!
I have been wanting to try this product for a long time already but I keep hesitating because of the price >.<
and finally!!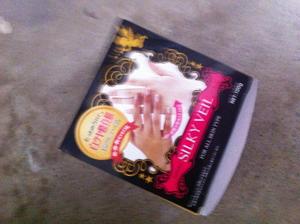 effects: 4/5 when applied on and need to rub well to blend well! But the whitening effect is really impressive*¬*!!! But once it touches water then it is gone over time >.< and there is no whitening effect even after long term use just the instant whitening effect!
price: 3/5 quite costly if there is no sale >.<
packaging: 3.5/5 it comes in a tub form, but it does not come with an applicator for hygiene purposes :(((
scent: there is no pleasant, neutral scent, no odour too :)))
texture: 3/5 gel like cream consistency!
Will I repurchase it again???
maybe?? lol if there is another sale !! hahahhaha!!
overall I do like this product though!!
But I still learning how to use it more effectively >.<
So that is all for now!!
Ciaos!!¬¬