Hello!~~
today gonna share with you all yet again another new haul!!
hehe but it is only 2 item here only which i bought today and a few days ago heheh :D
a while ago i was having a very strong temptation to buy a cream eyeshadow to try on because my eyelids were look funny with my current powder shadown and my eyelid glue together.. :(((
and i dont really like it >.<
so i was thinking how to solve this problem :s
& furthermore, i did some online research and they say that cream eyeshadow are in fact more lasting than those normal powder shadow ones.... so making more tempted than ever too!! >.<
so in the end i decided to get it a try!! Since i have never every tried a cream eyeshadow before my whole entire life!
so i went to my nearby shopping mall a drugstore to get a canmake creamy shimmery beige eyeshadow to try on myself!! :D
just started to use it but havent grasp hold of its proper usage yet.. so will try it again but somehow it kind of solve the existing problem a bit too :D
i am still thinking of other ways to use this more properly though....
So tada!~~
here is a pic of it!~~
somemore it was having a 35% discount at that point of time too!!
so i was even more determined to buy it >.< guilty look **
okkk. will do a review if possible on this once i grasp hold it proper technique!
cross fingers**
so next, i am gonna share with you all another new item which i just bought today !!
XD grins**
hahah it is just a head towel but i am so happy because i have been wanting this since quite a few days after i saw one of the blogger using it >.< and hers is so so so cute!!
Envy <33333
okk. so here is a pic of it!~~
i managed to find this at a small supermart while i was on way to make a duplicate of housekey which i just lost T~T and the price is cheap too !! hurhur lucky me !! XP
hahah i gotten the exact someone as the one jiyeon is wearing in this pic!! :D
so why do we need a headtowel right??
it is for taking your fringe off your forehead when doing some facial masks and this is a basic simple
hygiene! Because we do not want to have any pimples because of hair germs lying on your forehead right?
moreover all ulzzangs have perfect fair skin so doing masks is a MUST ! ( btw, having a head towel
when doing mask look kinda of cute too >.<)
especially since i am so fond of doing facial masks twice a week too heheh!!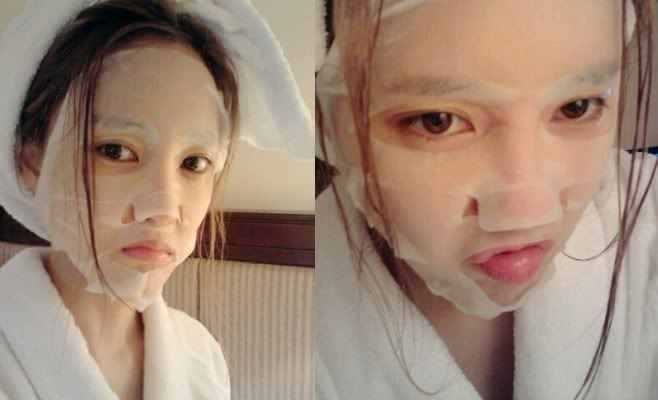 anyway here some more cute pics which some cute celebrities are wearing head towel too!
* but this is another head towel which is different from the one i bought but can be easily made yourself but just looking at the steps below! :D
okk.. so if you dont understand you can watch this video !!
omo!!~ so cute right?? gonna make one myself too !! hehehhe :D
shyshy! >.<
make one yourself too hehehe :p
hope this is somehow useful to you hurhur
so that is all fot today byebye <3333