Hi peeps
I am back with another review
and it is as the title suggests it is Shiseido's white ac lotion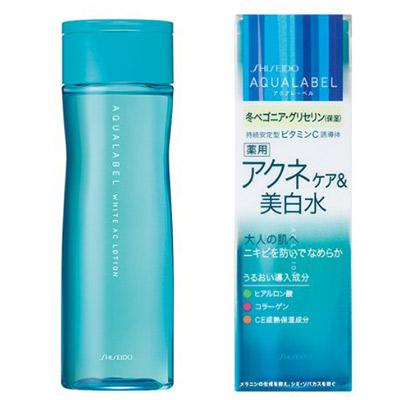 I have been using this lotion for quite a while already say a few months time? lol
because my sister and I bought it from the Shiseido's fair last year we greedily bought quite a number of bottles of it back while we were working back then ..
I remembered queuing up to enter the place for the fair because they were too many people in front wanting to buy their makeup and skincare products at a super bargain price there..
This product is highly raved in Taiwan and it famous magazine nu ren wo zui da ! O_O!¬
this product claimed to have whitening effects and soothe acne skin :) so i decided to give it a try lol..
so here is my verdict of it so far...
Effects: 4/5 it works like a toner to me and most importantly, it doesn't break me out and i feel that it kind of help me in oil control and slight brightening effects since after using it for quite a while?? Again it will depends as it will varies for different skin conditions, but my sister who has sensitive skin also complimented that it kind of help her prevent her breakout too :)
Price: 4/5 affordable since I bought it at a fair :)
packaging: 4/5 reasonable size quite a tall bottle. lol..
scent: 2/5 neutral scent I don't know how to describe .. neither pleasant or odour just seems like it doesn't have a very strong scent at all just slight chemical scent I would say..
texture: 4/5very watery texture :)does not feel oily or sticky on face :) which is a plus point to me :)
will I repurchase it again??
Overall, i quite like this product. So probably :)) if they have the fair again and I am aware of it lol since they will have one annually to clear their excessive stocks :)
So that is all for now
Ciaos!!
and stay tune!! <333