Hello!! So today i am just gonna share with you all things that i been wanting to get soon and try them out too..
actually there are many but i am just gonna share a few of them.. here..
The first product i wanna introduce to you all is CLIO eyeliner which is also currently known as
korea's No.1 eyeliner !!!!!!!!
Wa!!!!!! i want! >.< me wanna try the dark purple or blue one!
See the purple eyes of this model so cool right?? Envy<3 doubt my makeup skills will be as good a not? lols. hahhaha
Btw, this model is one of the wondergirls!! kya!!!!!!!!!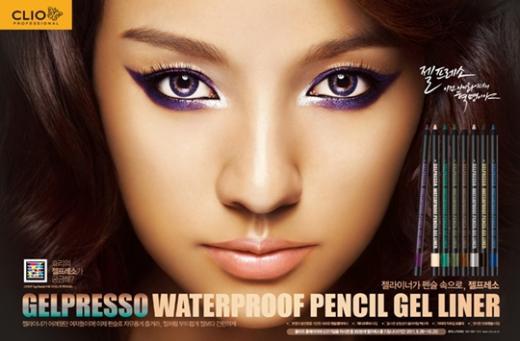 This is already available in my country's watson store already as i had seen it recently! >.< i will do a review on this once i manage to buy this kk?? no promises though -.-
Next thing is my online haul finally arrived after so long T~T
the seller went to post it as a reg mail and never inform me as i opted for norma postage because i knew i will not be free to wait for it to arrive at my doorstep. In the end i spend my afternoon near to an hour time waiting for my item to be found in the post office -.-
SO long!!
Dammm..
anyway here is a pic of my haul! heheheh glad it finally reaches my hands! phew!!
FYI: this amazing singlet helps to burn calories while wearing it too so fabby right???
>.<
it also helps to bust up too !! :p
hopefully it works heheh wearing it now already hahah
if it really works, i swear i am so gonna do a review on this for you all kk??
hurhur...
btw, the pink item is my twinie's one it is mouth piece which helps to slim the face?
lols.. i am not getting it though..
that is all for now!!
hehhe bybye!!