Hello!~~
i am just lazing around now lazy me right??? >.<
hais...
Anyway just wanna share with you all some things i bought and tried on today
wees!~~
ok.. so firstly i bought this happy crepe from a japanese fair as it looks
yummilicious right?? haven tried this yet though >.<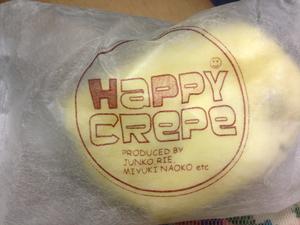 2nd i was feel pretty hungry.. so i decided to buy these grapefruit gummies to chew on..
featured on some japanese magazines before! :D i swear these are the best and most delicious gummies i have ever eaten my entire life! gonna buy them again the next time i promise! :p
oh my gosh!! Even the packaging looks so tempting right??? >.<
thirdly, i finally tried on my etude house moistful aloe facial mask already just now ! :D
my personal review on this is that it feels very soothing to my skin, and it is not too moist at all, just nice! after taking off the mask my face does not feel wet at all, just feel refreshed, soft, some moist and lightweight.. i will buy it again though this face is a free gift from my previous purchase hehheh lucky me!
ok so next i am gonna do a short review on my new samantha real technique expert face brush which
i just bought online!~~ finally tried it for the first time today! :D
ratings :5/5
I really love this brush i got to admit!! The hair on it is really smooth and fine :D and its blending
ability is superb!!!! omg! it feels so smooth on my face too!!
my face does not look cakey anymore, looking very natural because every thing is blend so perfectly
<33333333333333
i swear i am gonna buy this again !! XD
Do try this awesome brush yourself one day too!! you will not regret it like me!! <33333
So that is all for now yea??
byebye
HUGS ***
If only life is a bed of roses...